Get Lost in the Forest—at Home
(Source: Juniper Ridge via Instagram)
There's nothing like the sight of tall trees all around you to give you a little perspective—a fact I only fully grasped upon my first visit to
Muir Woods
, just outside San Francisco. You know when you finally see a place you've heard about for years and realize it lives up to the hype? Those giant redwoods did the trick for me. Even now, years later, when I'm frazzled with the pace of big-city life, I close my eyes for a few minutes and picture being in the woods and looking up at the trees, and it never fails to calm me down.
Here are three more ways to bring forest serenity into your daily life.
1. The Room Scent
I'm crazy about Juniper Ridge's products, particularly the
Cascade Glacier Cabin Spray
, which is like the Oregon backcountry in a bottle. Plus I love reading the company's blog, which details their "wildharvesting" adventures with simple, gorgeous language and images that will make you want to lace up your boots and get out in nature. Read one
here
.
2. The Terrarium
Handmade in Oregon out of salvaged wood and recycled glass, this
tabletop model
is like a window into nature. Plant kit sold separately
here
.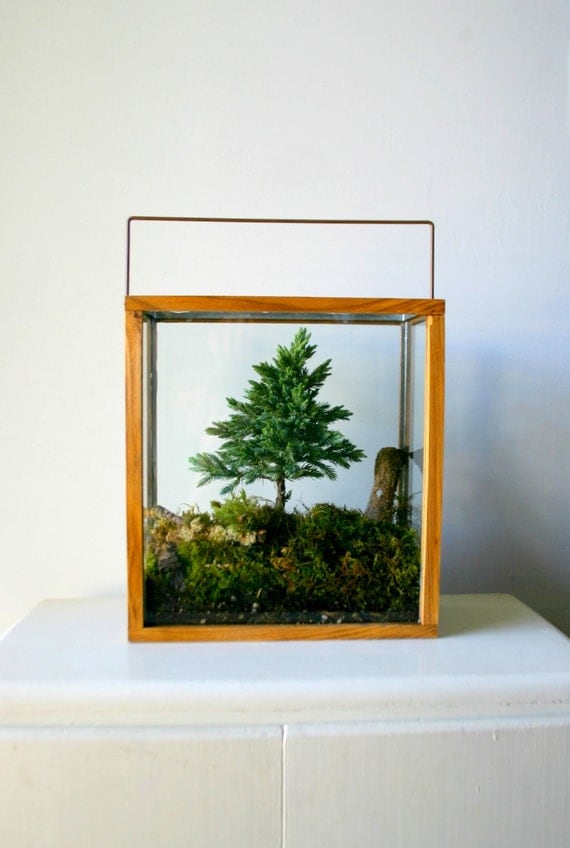 3. The Wallcovering
The
Etched Arcadia Mural
from Anthropologie is both subtle and sweetly old-world; it would look fantastic in a midcentury or contemporary setting, I think, so long as you give the pattern enough breathing room.
How do you bring the look and feel of nature indoors?
Related Articles: